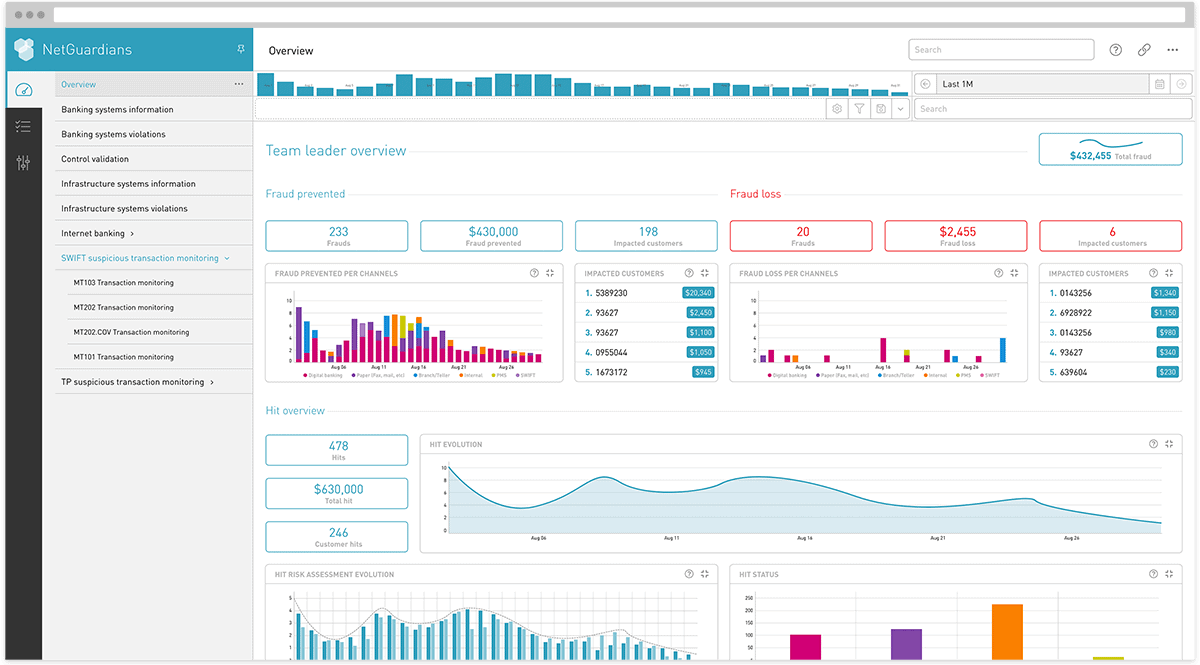 1
Example of a team leader overview dashboard
3
Fraud mitigation performance
4
Total amount of prevented frauds
5
Impacted customers – Number of customers saved from being a fraud victim
NetGuardians' software is specifically designed to help banks detect and prevent fraud. Plugging directly into core banking systems via pre-defined connectors, it extracts, enriches and analyzes data, spotting and stopping significantly more fraud and reducing investigation time.
Beating Banking Fraud with NetGuardians' Machine Learning Risk Platform
Explainable AI for business users
You don't need to be a data scientist to make sense of AI algorithms. Easily understand why AI raises an alert with the full business context and run powerful forensics using intuitive investigation tools.
NetGuardians' CTO Jérôme Kehrli explains how AI helps financial institutions to prevent banking fraud.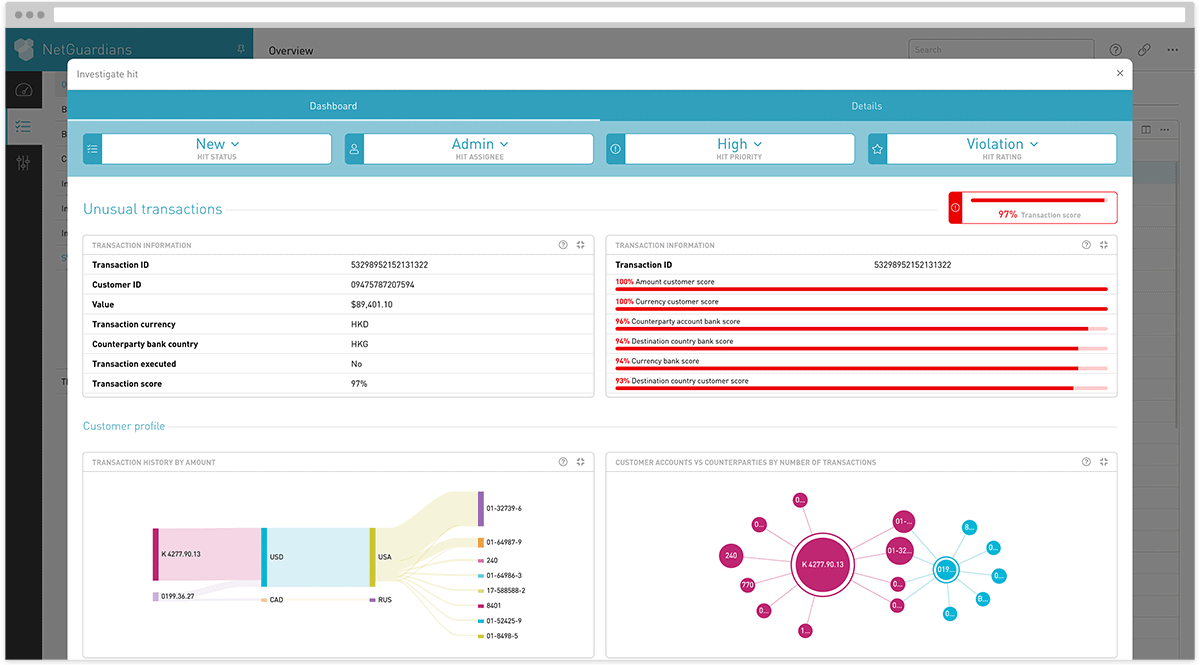 1
Transaction score – Highlights the global risk score of the transaction
2
Transaction information – All important information of the transaction
3
Transaction score details – Unusual variables that lead to the blocking of the transaction
Within the millions of transactions a bank processes each year there will be a small number of frauds. While traditional AI systems can be taught to spot these frauds, they will become experts only in these known frauds – overfitting. NetGuardians' managed learning technology doesn't endlessly learn about any given type of fraud. It prevents AI from continually diving down just a few avenues. This avoids overfitting and makes it smarter and more dynamic, able to spot new types of fraud.
How to overcome overfitting in machine learning based fraud mitigation for banks?
Follow a manual added link
June 07, 2021
NetGuardians' 3D AI delivers global analytics supremacy in fraud detection
Jérôme Kehrli explains 3D AI and the three pillars of supervised and unsupervised learning that lie behind the award-winning software's market-beating performance when it comes to defeating the fraudsters
Jérôme Kehrli
Follow a manual added link
October 15, 2021
Smart fraud mitigation demands the right AI model
It's a basic rule in data science: when precision and accuracy are required for fraud prevention, make sure you choose the algorithm appropriate to a bank's data sets and needs. A complex algorithm does not mean better; a simple algorithm does not mean worse.
Dr Vivien Bonvin
A roadmap for applying AI models to prevent banking fraud.