Stop payment fraud in real-time.
Instantly stop fraudulent payments
Quickly uncover new fraud patterns
Efficient fraud detection
Following the Covid-19 pandemic, digital-led interactions are becoming the norm. With many payment schemes moving towards instant settlement, you need to react faster to your fraud decisions. Simultaneously the fraud threat is growing, becoming more sophisticated, and continually reflected in evolving modus operandi, presenting ever-increasing challenge. This demands a proactive approach to identify both known and emerging fraud patterns, to ensure you can accurately block fraudulent transactions in real time.
NetGuardians' Payment fraud solution monitors your transactions in real-time, prevents more fraudulent activity and reduces false positives. It is built on NetGuardians' NG|Screener risk platform and provides pre-built machine learning models, powerful case management and unrivalled investigative dashboards. Accurately identify potentially fraudulent payments due to social engineering techniques, scams, device compromise, account takeover and more. You can confidently protect all your payment rails and comply with SWIFT CSP and PSD2 requirements.
You can now confidently protect your customers' transactions, maintain frictionless customer journeys and safeguard your business.
Detect & prevent in real-time with pre-built AI models
Reduce false positives using powerful behavioural profiling
Uncover new & emerging threats by use of continuous learning & model feedback
Faster, flexible deployment to suit your needs – In cloud, on premise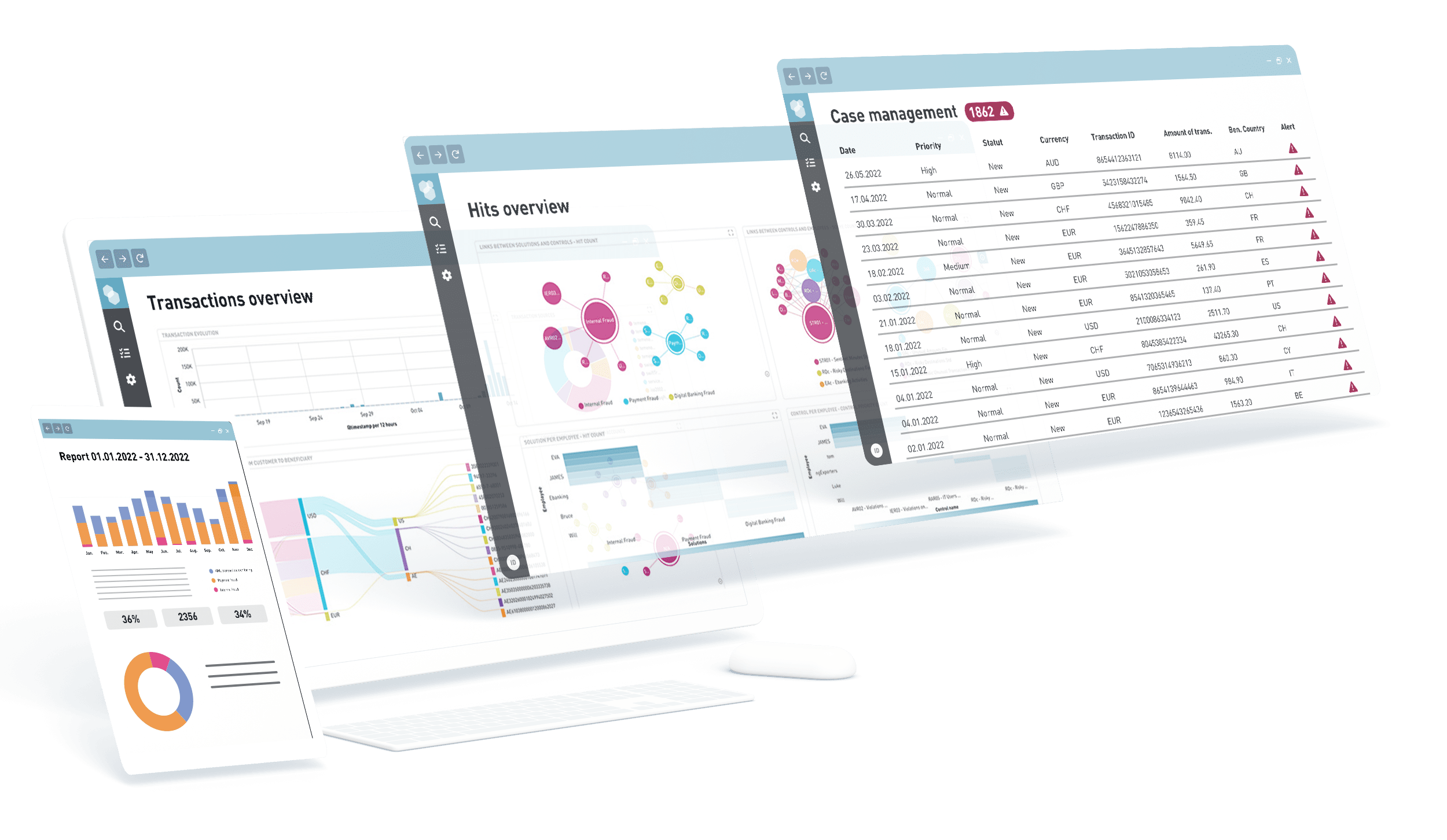 1
Holistic risk management
3
Powerful case management
NGIScreener platform enables:
no code/ low code rules, machine learning engine
configurations of models, rules, parameters and alerts
1. Stop fraudulent transactions in real time
NetGuardians NG|Screener platform integrates internal and external data sources and analyzes these through rules and machine learning to accurately detect potentially suspicious behavior. It can monitor large volumes of transactions in batch or real-time, offering deeper insights, reducing false positives and improving operational efficiencies.
Our AI risk models do all the heavy lifting. Forget complex and expensive data science projects. These pre-built models more accurately detect fraud with lower false positives, helping you to quickly start preventing fraud. By continually learning and through feedback, the models keep your fraud prevention controls optimized and relevant, even when facing changing threats.
3. Powerful case management
Alerts are raised in real time, routed to the appropriate team and intuitively contextualized. Explainable AI, supported by natural language visual 'Evidence Cards' ensures you can immediately understand every alert. You can even target and automate customer callbacks and step-up authentication.
4. Unrivaled investigative tools
Standardized and intuitive widget-based dashboards help you visualize, understand and contextualize transactional behaviour. Powerful forensic capabilities help you easily and accurately make informed decisions. If required, you can quickly adjust or extend these dashboards from a widget library.
Internal-external collusion
Identity theft from phishing
Hijacked eBanking sessions
Malware compromised eBanking sessions
Some users reviews
We are dedicated to keeping our promises


With NetGuardians as our fraud-prevention partner we know we are giving our customers the best possible protection and a great service. More attempts at defrauding them will be spotted and stopped, and our customers won't be contacted unnecessarily over authentic payments. Read more
Romano Ramanti, Ethical Hacker at Zürcher Kantonalbank

Social engineering, false bills or fake phone calls that give the victim new payment details for utility bills are the most popular and widespread types of payment fraud these days. Corporates are targeted for larger amounts, but individuals are equally under attack.
Tim Forster, FMM strategic partner manager at Finastra
Fraud detection on SWIFT messages
NetGuardians' machine-learning fraud-mitigation software allows banks to monitor SWIFT messages to spot fraudulent payments in real time, helping them meet SWIFT Customer Security Program (CSP) requirements.
Our main requirements were to detect more fraud with a flexible system that would throw up fewer false positives. We were getting about 800 false alerts a day. With NetGuardians we have cut that and are stopping more fraud.
Romano Ramanti, Ethical Hacker at Zürcher Kantonalbank
NetGuardians AI platform analyzes a retail bank's payment transactions over the period of 12 months. The results show that the bank significantly reduces the number of false positives, decreases operational costs, and improves the fraud detection rate.
Within seven months, NG|Screener had analyzed more than five million transactions yet blocked 10 times fewer payments than Aargauische Kantonalbank's former system and achieved a better fraud detection rate.
Curious to see our solutions?
Get a free 30-min live demo
Fill in the form below to get a demo